Image

Slide Text
The Details in the Devils
Plural Meanings in Diablada Performance and Archival Presentation
(Photo caption: A pair of bailarines de línea being followed by a group of diablos. Image copyrighted Leonardo Carrizo.)
Fun Facts
Advanced
Text
About the Author
CAMERON LOGAR (he/him)
Cameron Logar is a member of the Global Arts + Humanities' 2022-2023 undergraduate apprentice cohort. He is a biochemistry major and Kawsay Wakaychaq curator with Ohio State's Kawsay Ukhunchay Andean and Amazonian Indigenous Art and Cultural Artifacts Research Collection (a specialist archive focusing on indigenous South America). Logar's research focuses on interdisciplinary connections in health, culture and society, and his future plans include further research and study in the eventual pursuit of a doctoral degree.
---
Project Overview
This research project is an in-depth study of the Diablada Carnival performances seen throughout the Andes, specifically in the matter of their origins and the meanings carried by the clothing, performances and greater position within local and national society. Although there are diverse meanings in all of these, archival structures — such as those found in the "Dancing With Devils: Latin American Mask Traditions" exhibition — often impose a particular reading on their records.
Text
This text utilizes key terms from Spanish, Quechua, Kichua and Aymara languages. These are deliberately left untranslated for the purposes of preserving depth of meaning and avoiding neo-colonial impositions upon local and Indigenous cultures. I ask that you keep this in mind as you read and take advantage of the resources at the end of this text to develop a deeper understanding of the meanings expressed by these terms.
Text
An archive is often considered to be a set of component records. These artifacts, through the meanings they carry and the analyses of the archivists, contribute to the greater meaning and theming of an archive. However, of similar importance is the way in which the archive itself contributes to the understanding and reading of the records within. The construction of an archive provides a context to records, defining the perspective through which it can be viewed and the information which can be gleaned from it. Individual records establish a dialogue with each other and can help to present nuance and depth of meaning, or to suggest associations between pieces based on commonalities.
In order to understand how records are influenced by archives, I pursued an archival analysis from the records up, obtaining a thorough understanding of the pieces and comparing this with the structural presentation within the confines of the archive itself. The Dancing With Devils: Latin American Mask Traditions exhibition was utilized, given my personal experience in the original construction and presentation of the site and previous knowledge of the pieces exhibited. 
The Dancing With Devils exhibition emphasizes the role of the "devil archetype" in masked performances throughout the Americas, with the constituent materials consisting of various masks from differing social performances as well as photography taken by Leonardo Carrizo during the Diablada of Pillaro. Within this archive, the analysis focused on diablada-associated records specifically, with intent to gain clearer understanding of the self-contained information on the performance is an accurate portrayal, without potential influence from following the exhibition's theme exactly.
Text
The diablada is a ritual performance done throughout the week of local Carnival celebrations, in which participants dress up as various masked figures that fulfill specific roles in the festivities, such as the clown-like chorizo or the colonial Spaniard-imitating bailarines de línea.
Among these figures is the diablo, a transgressive character that clears the festival space using whips and other tools, crossing the boundary between the performers and the audience. The diablada is described as originating from the mining town of Oruro, Bolivia. The practice has been ascribed multiple origins, including in 1789 to honor the Virgen del Socavón, a local veneration of the Virgin Mary, after her miraculous rescue of the injured thief Chiru-Chiru and the appearance of an image of her on the mineshaft wall where he was found.
As part of this ritual, performers dressed the part of the diablo as a disguise against the jealous Tio, who controls the mines and thus the lives of the miners (Lecount 234-236). It has also been ascribed pre-Columbian origins, to Indigenous practices of the local Uru peoples, being a post-syncretized form of the religious llama llama performance for the deity Tiw (UNESCO).
Furthermore, the diablada has been considered a syncretic event based on Andean folkloric conflicts between the Ñusta and Wari, opposing figures analogous to the Virgen and the Tio, respectively (Karadimas 32-33). Still others trace portions of the performance to Catholic morality plays involving St. Michael, with his triumph over the seven capital sins reenacted in an associated performance, the relato (Lecount 240-241). From Oruro, the tradition spread to other communities, in each one taking a distinct meaning. Over time, the practices, performers and purposes of the diablada have changed, such as the addition of objects such as lightbulbs to mask designs and a social shift in some areas to more secular meanings (Mascaras de los Andes Bolivianos).
Text
The performance of a diablo consists of many accoutrements and components. The most prominent of these is the mask, a work with technical origins in religious statuework and iconography of snakes and frogs that suggest the conflict between Wari and the Ñusta (Mascaras de los Andes Bolivianos).
The costume of a diablo can vary significantly between communities, from extravagant outfits that carry various symbolic meanings associated with Andean aesthetics and indigenous identities (Maúrtua Salvador 58-59) to borrowed clothing and gloves to hide the wearer's identity (Dancing with Devils). Beyond the clothing, diablos also carry tools meant to shock and surprise onlookers, such as dead rats, as well as a whip used to clear space for the line dance performances.
However, beyond all of this, the diablo is also a performative character, a figure in a role filled by specialist community members. Either by membership in exclusive performance groups or by communal tradition, the actors adopt a particular anonymized persona for the duration of the event, as well as certain dancing movements in the clearing of space. This performative, living nature of the diablo is challenging to capture, particularly within the limited confines of an exhibition space.
(Caption: A diablo of Pillaro. The kerchief, mask, gloves, and borrowed shirt all help to preserve anonymity. Image copyrighted Leonardo Carrizo.)
Text
Although research and analysis are still ongoing, a number of interesting challenges have arisen to Western archival structures. For one matter, the diablo is inherently a living and breathing figure, one that performs their dance with a variety of tools and modes of dress particular to the community and time-space of the performance. Given this, how can archives present a partial diablo figure, exhibiting unpaired and unworn masks, and expect to convey their full character and meaning? Dancing With Devils combats this with a selection of photographs by artist Leonardo Carrizo, alongside "video portraits" of the individuals within them, which present a more holistic representation. However, when an archive either cannot or will not represent the whole of an object, it invites the risk of archival violence.
 
Another concern is in the grouping of disparate objects under a singular theme. While the diablo figure is described as a "devil," it does not carry the same connotations or associations as the other "devil archetype" figures, with certain interpretations labeling it a form of disguise as opposed to a form of representation. It also suggests a shared origin for a figure that developed post-colonially and independently of others. In placing this label on the diablo, it can impose false meanings and interpretations. The reverse extreme is also a concern, with there being a danger of limiting the meanings of the diablo, effectively erasing perspectives on it as a result of a need to communicate along a single theme of the archive. To remedy these larger issues of practice, archives and archivists must be made thoroughly aware of both the objects they present as records and the systems those records exist as components of, and they must pursue representations that do justice to the record itself as well as the larger archive. It is hoped that further analysis will yield more insights into how archival practices can be improved.
Text
"Dancing With Devils: Latin American Mask Traditions."  Accessed Oct 2022.
Endara, Fernando. "De la Fiesta de Inocentes a la Diablada Pillareña. Los cambios en una fiesta patrimonial del Ecuador, 1990-2020." 2021.
Harris, Max. Carnival and Other Christian Festivals. University of Texas Press. 2003.
Karadimas, Dimitri. "The Nina-Nina, the Devil and Oruro: The Origins of a Diabolical Figure." In Ibero-Amerikanisches Institut Preußischer Kulturbesitz, vol. 32. pp. 23-45. 2015.
Lecount, Cynthia. "Carnival in Bolivia: Devils Dancing for the Virgin." In Western Folklore, vol. 58, No. 3/4. pp. 231-252. 1999.
Maúrtua Salvador, Milsa Daniela. "El actor - danzante en búsqueda del diablo puneño." Pontificia Universidad Católica del Perú. 2018.
McFarren, Peter [Ed.]. Mascaras de los Andes Bolivianos. Editorial Quipus. 1993.
Mitchel, Andrew. "Dancing with Devils Interview with Pamela Espinosa de los Monteros and Leonardo Carrizo." 26 Feb 2021. Accessed Oct 2022.
Quezada Ortega, Jaime Ramiro. "Las mascaras en el arte popular ecuatoriano: studio de las mascaras de la Diablada de Píllaro, aplicado a la producción escultórica contemporánea." Universidad de Cuenca.
Taussig, Michael T. The Devil and Commodity Fetishism in South America. University of North Carolina Press. 1980.
Tirado Lozada, Delia Angélica and Mora-Pérez, Abrahan. "La diablada pillareña, un performance simbólico." In Chakiñan, No. 9. pp. 58-72. 2019.
UNESCO. "Carnival of Oruro." Accessed Apr 2023.
Vidal, Teodoro. Las caretas de carton del Carnaval de Ponce. SmithKline Beckman. 1983.
Zhou, Xueqing. "El significado y la transformación de las mascaras y los trajes de la diablada de Puno." Pontificia Universidad Católica del Perú. 2019.
Image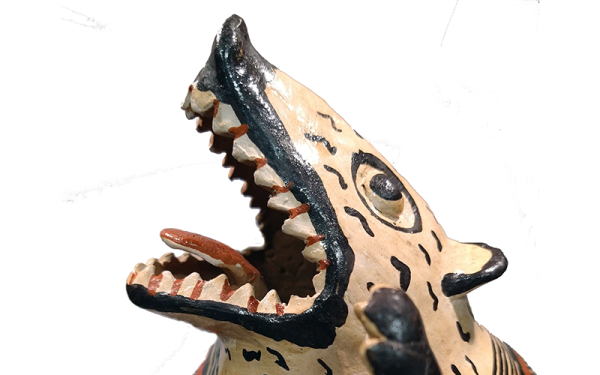 Image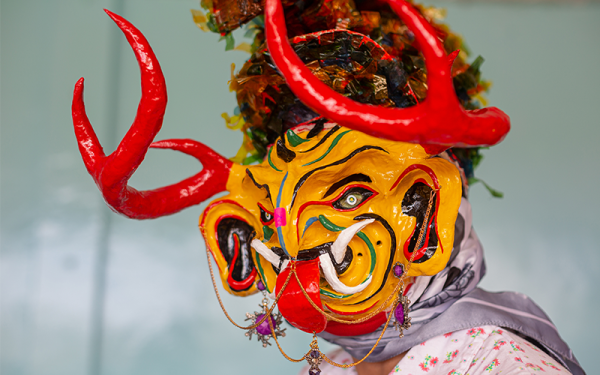 Image