May 26, 2020
Announcing the 2020-21 Graduate Team Fellows
Image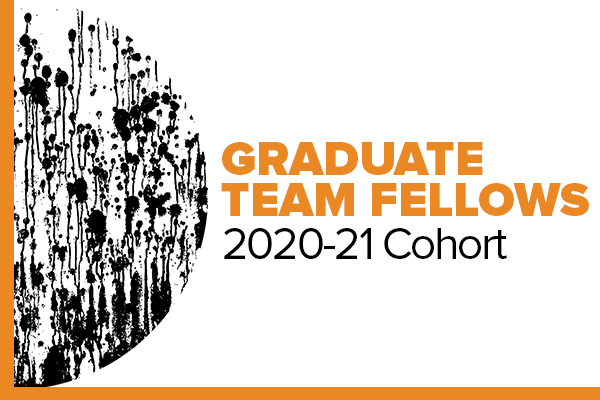 Description
The Global Arts + Humanities Graduate Team Fellowships are financial awards made on the basis of academic merit through a division-wide competition. These fellowships are given to recognize the cross-disciplinary aspirations and accomplishments of graduate students in the division of arts and humanities. The fellowship competition is open to students whose projects engage cross-disciplinary critical and/or creative practices as well as students who seek to foster the development of participatory networks with local Columbus communities. Fellows may be at any phase of their dissertation research or terminal degree project. 
The Global Arts + Humanities Discovery Theme is pleased to announce the nine recipients of the 2020-2021 Graduate Team Fellowship competition.
---
Yeliz Cavus (PhD'2021), Department of History
Project title: "Crafting History Between Empire and Nation: The Formation of Modern Historical Consciousness in Late-Ottoman and Early Republican Turkish Historical Narratives, 1840s-1930s"
Project description: Cavus' project examines how modern history writing and historical scholarship emerged within the trans-imperial setting of the late-Ottoman period and how the historiographical debates of the late-nineteenth century affected the early Turkish Republic.
Mario De Grandis (PhD'2021), Department of East Asian Languages and Literature
Project title: "Ethnic Frames: Positioning Hui Literature Within and Beyond China"
Project description: De Grandis' dissertation investigates how literary authors from the largest Chinese Muslim ethnic group (i.e., the Hui) counter these discourses by presenting positive representations of their group in print media, digital media and during public events.
Seth Emmanuel Gaiters (PhD'2021), (Graduate Team Affiliate Fellow) Department of Comparative Studies
Project title: "Black Sacred Politics: (Extra)Ecclesial Eruptions in #BlackLivesMatter"
Project description: Gaiters' dissertation locates and examines a politics of the sacred at the heart of the Black Lives Matters movement by considering the use of both spiritual and religious language and practices in Black Lives Matter as a central part of their racial justice struggles.
 
Kathryn Holt (PhD'2021), Department of Dance
Project title: "Dancing Irish Womanhood: Bodies, Sexualities, and Challenges to Cultural Norms in Irish Social and Theatrical Dance"
Project description: Holt's dissertation investigates how dance in Ireland and the Irish diaspora shapes and is shaped by cultural norms and expectations associated with Irish womanhood during the twentieth and early twenty-first centuries.
Dareen Hussein (MA'2022) Department of History of Art
Project title: "The Orientalist Imagination: The Burden of Representation"
Project description: Hussein's exhibition brings together a group of artists whose work mines histories of colonialism and imperialism to reveal the personal and political effects of displacement. Employing film, photography and found imagery, these artists meditate on the stakes of representation and visibility.
(Portrait by Ann Hamilton)
 
Jordan Lovejoy (PhD'2021), Department of English/Center for Folklore Studies
Project title: "Beyond the Flood: Environmental Memory, Precarity, and Creativity in Imagining Appalachia's Livable Futures"
Project description: Lovejoy's project explores both literary and vernacular moments throughout Appalachian history and memory of the intense encounters — human and more-than-human, environmental and cultural, natural and technological — that occur within the context of floods.
 
Nathan Richards (PhD'2022), Department of English
Project title: "Healthcare Policy in Linguistic Interaction: A Mixed-Methods Approach for Improving U.S. Patient Care"
Project description: Richards uses discourse analysis, medical humanities and academic medicine to research the negotiation of power in medical interactions and make applicable recommendations for improving the quality of patient care within the structures of the U.S. healthcare system.
 
Vitor Vilaverde (PhD'2023), Department of Spanish and Portuguese
Project title: "Andor Stern"
Project description: Vilaverde is directing a documentary feature titled Andor Stern that tells the story of André, 91 years old, the only living Brazilian-born who survived the Holocaust.
Katelin Webster (PhD'2022), School of Music
Project title: "Musik Verbindet: Intercultural Music Programs and Refugee Integration in Germany"
Project description: Webster's dissertation examines how music activities in northern Germany actualize the European Union's and Germany's intercultural integration policies at a local level by creating a space for dialogue and exchange between Middle Eastern refugees and German citizens.
---