August 10, 2021
Announcing the 2021-22 Graduate Team Fellows
Image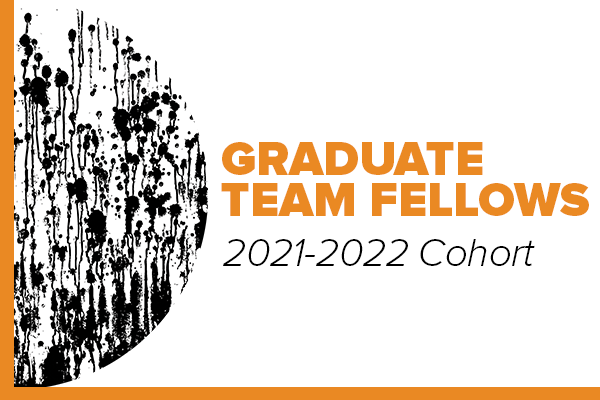 Description
The Global Arts + Humanities Discovery Theme is pleased to announce the eight recipients of the 2021-2022 Graduate Team Fellowship competition. The incoming fellows, currently pursuing either PhD or MFA degrees, join us from seven different departments.
To date, Global Arts + Humanities has supported 32 graduate students from 15 different departments, schools, centers or programs: Art; Comparative Studies; Dance; Design; East Asian Languages and Literatures; English; Folklore Studies; Germanic Languages and Literature; History; History of Art; Linguistics; Music; Spanish and Portuguese; Theatre; and Women's, Gender and Sexuality Studies.
The Graduate Team Fellowship program at Ohio State is the first team-based, arts and humanities graduate fellowship program in the United States. The Global Arts + Humanities Graduate Team Fellowships are financial awards made on the basis of academic merit through a division-wide competition. These fellowships are given to recognize the cross-disciplinary aspirations and accomplishments of graduate students in the division of arts and humanities. The fellowship competition is open to students whose projects engage cross-disciplinary critical and/or creative practices as well as students who seek to foster the development of participatory networks with local Columbus communities. Fellows may be at any phase of their dissertation research or terminal degree project. 
---
2021-2022 Graduate Team Fellows Cohort
Advanced
Text
ROBERT BARRY JR. | (PhD) Department of Comparative Studies 
Project Title | Blackberry Molasses: Un/Gendering Black Masculinities in the Afterlives of Slavery
Text
SARAH CRAYCRAFT |  (PhD) Department of Comparative Studies
Project Title | Young in the Village: The Project of Rural Revitalization in Contemporary Bulgaria
Text
JOY ELLISON | (PhD) Department of Women's, Gender and Sexuality Studies
Project Title | Coalitions at the Crossroads: Transgender Movements in the Midwest (1945-2000) 
Text
JACOB KOPCIENSKI | (PhD) School of Music
Project Title | Sounding and Listening for Queer Communities in Appalachia 
Text
KORTNEY MORROW | (MFA in Creative Writing) Department of English 
Project Title | Run it Back: A Poetic Mapping of Black Material Culture from the Rustbelt to the Blackbelt
Text
PREETI SINGH | (PhD) Department of English
Project Title | Postcolonial Exceptions: Cultural Lives of the Indian National Emergency, 1975-1977 
Text
LYDIA SMITH | (MFA in Painting and Drawing) Department of Art
Project Title | Leave No Stone Unturned 
Text
HENRIQUE YAGUI TAKAHASHI | (PhD) Department of Spanish and Portuguese
Project Title | Racial Entanglements: Orientalism and Anti-Blackness in Brazil 
---