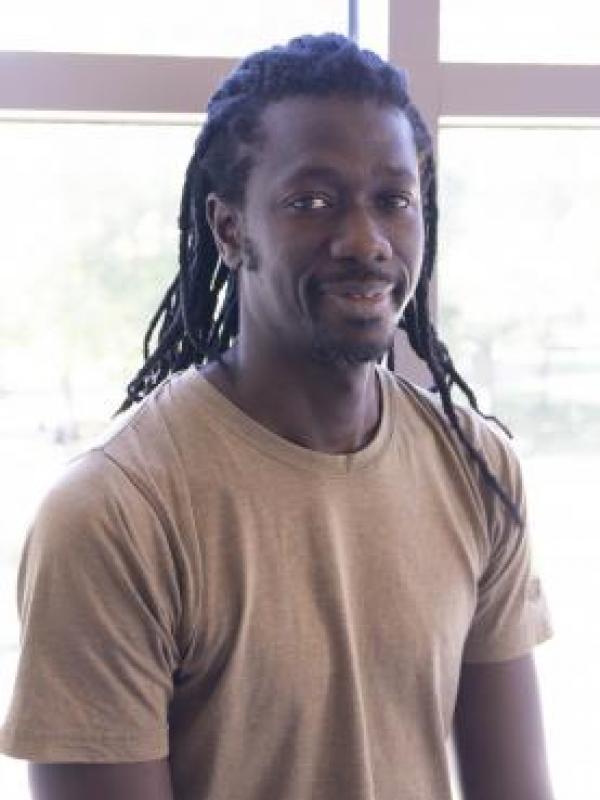 Momar Ndiaye
Assistant Professor, Department of Dance
311 Sullivant Hall
1813 N High St
Columbus, OH 43210
Areas of Expertise
Performance
Choreography
Movement practice
Education
MFA, University of Illinois (Urbana-Champaign)
Momar Ndiaye is an internationally-recognized dance artist from Senegal who has taught and toured his work both in the United States and abroad. He received his MFA in Dance from the University of Illinois at Urbana-Champaign, where he taught contemporary and traditional African dance forms from Senegal, Guinea, Mali, Congo, etc., as well as video dance documentation.
Ndiaye has worked with many well-known choreographers from Africa, Europe, Asia and America through the program Aex. Corps, initiated by the Association Premier Temp in Senegal. Since 2010, Momar has danced for internationally-acclaimed choreographer Andreya Ouamba in the Dakar-based company Premier Temps, and he was selected as a Dance Web participant at the Impuls Tanz Festival in Vienna, Austria, in 2012.
He has been developing work with his own company, Cadanses, since 2004 and has created and toured several staged contemporary dance works. In 2015, Ndiaye's evening- length piece, Toxu, was a finalist laureate in the Danse L'Afrique Danse (Africa and Caribbean in Creation) Festival in St. Louis and Senegal and was toured to Europe as part of the Belluard Festival in Switzerland. In 2016, Ndiaye was selected to participate in two intercultural projects, Shifting Realities, supported by Tanz Haus and Hellerau in Germany, and 1space, a collaboration between KVS Brussel, Exodus in Ljubljana, Slovenia, and Alkantara Lisbon, Portugal.